Edward W. Clark High School      "The Class with Class"

Class of 1975     &nbspLas Vegas, Nevada

Welcome to the Clark High School
Class of 1975 Website!
Hello Classmates!
As most of you know, we held our last reunion in October 2015. Past experience says that it takes a good two years to put together a large event, especially in a town like Las Vegas where desired venues book up well in advance. Having played an integral role in planning the last three reunions, it's time for me to step away and turn the reigns over to a new committee. I can simply no longer devote the time necessary to put on the next function. My dear friend Frank Lucas has also moved on to other priorities and a seemingly endless travel schedule since he retired in early 2017. Two words best sum up our situations...Carpe Diem!
I'm hoping a few of you creative souls will come forward and carry on with your own ideas. If you love planning events, reuniting with old friends, and have a knack for organizing and managing, the Class of '75 needs you! Without new leadership, there simply will be no more reunions. Interested parties can reach out to us by using the Contact Us link below. We'll be happy to share as much knowledge and information as we can to head you in the right direction. It's been a privilege serving you all!
Alexia (Stewart) Rogers
Class of '75
Luke Lives On!
First he was inducted into the Southern Nevada Sports Hall of Fame. Then Mayor Goodman issued a City Proclamation for a Luke Wener Day. Now our late classmate is being honored again with a street named in his honor. Councilwoman Lois Tarkanian will oversee the naming ceremony on Thursday, March 15, 2018 at 10AM at Collis Stadium on the campus of Clark High. Luke's family will be in attendance to accept the proclamation. Luke had an amazing impact on decades of Clark students and left an indelible legacy on our community.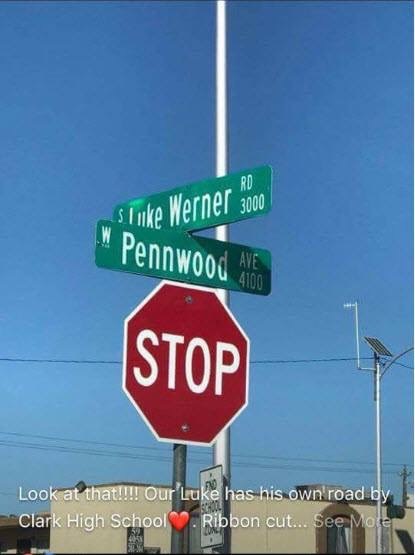 Alumni Giving Back to Clark High
Due to generous contributions by attendees of our last two reunions, we found ourselves with a nice little surplus of funds that our canvassing suggested alumni wanted to use to give back to Clark in a meaningful way. After receiving several suggestions from school officials, we opted to kick start the creation of a gardening program. Universities including UNLV and hundreds of secondary schools across the country have started similar programs that lend themselves to fields of study that include gardening, organic farming and food production, water and energy conservation, nutrition, environmental management, and recycling to name a few. Although a one-time contribution, it will reap long-term benefits and play a big role in educating tomorrow's students in this vital area of study. Call it the gift that keeps on giving! Below are photos of the project that was completed on March 2, 2018 and dedicated to the classes of 73-77. We can all be proud to have played such a meaningful role in helping to create this program and the lasting legacy we leave behind.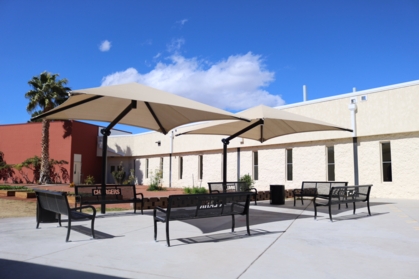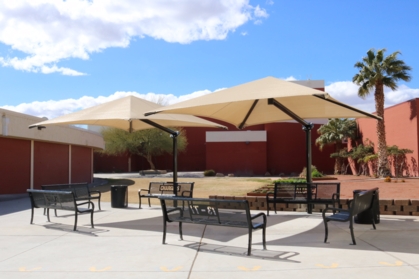 Don't Have an Account With Us?
Your free account keeps you informed of the latest happenings and allows you to enjoy all the photos, videos and special features we post. Additionally, we send out newsletters at appropriate intervals to alert you to approaching events, request or share relevant information, or simply to say howdy. We also have a Facebook group page at edwclarkhigh75 and often make posts about upcoming events, classmates past and present, and newsworthy stories about our alma mater. It's a great way to stay connected and share with others.
We hope you enjoy all this site has to offer and look forward to seeing you sometime soon!

This site has been visited 73,105 times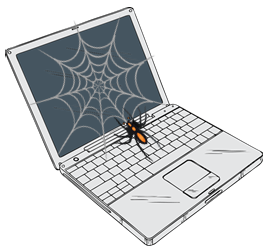 Webmaster: Frank Lucas