Edward W. Clark High School      "The Class with Class"

Class of 1975     &nbspLas Vegas, Nevada
Tack and Goods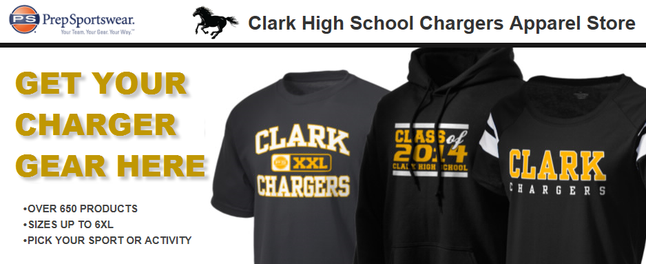 Is your 1970's Clark apparel feeling a bit tighter these days? Has your favorite football tee become your favorite car washing rag? Looking to upgrade your Charger wardrobe? Prep Sportswear can help. Whether it's tee shirts, polos, hats, bags, backpacks or other accessories, Prep Sportswear has your black and gold needs covered. Items are available in all sizes for men, women and children and most are customizable from their easy to use website so you get exactly what you want, just like I did. It's high quality gear at moderate prices. Buy with confidence on their secure site using your credit card or Paypal account. Sign up to receive Prep Sportswear emails and get 10% off your first order. There are also discounts for bulk orders.
Why not attend the reunion in style by showing your school spirit instead of your school sweat stains? Just click on the Prep Sportswear header above to get started. Because when you look like a Charger you look like a winner!